- SHAWN

Nice, wish I could be there sometime.

As far as the camo on Hetzer and the M1917, what examples are they taking the camo patterns from?
(and wow, that is a yellow!) What samples did the museum have to match to? What is the history for the Museum's Hetzer-- where can I find if it is already online, etc.?
Shawn


Well the 'window of opportunity' is closing. This summer the museum will be closing for most of the month of July in order to prepare the next shipment of artifacts to Ft Lee. After that it will reopen but there may be more limitations in the schedule as the staff concentrates on preparing and crating artifacts for the move. Eventually the Museum will close for (probably) a year before it reopens in Ft Lee. This schedule is very approximate (and based on my memory of a conversation I had this weekend) but the 'closed for a mont this July is pretty solid. The problem is staffing. The museum has a staff of 4.

They will attempt to accomodate serious researchers during this period but it would be best to check ahead of time.

The Hetzer paint job was based on what they found as they stripped it. I am pretty sure the vehicle was captured at the factory in 1945 (but would have to check the file at the museum to be sure). The vehicle files are not on line. They are in folders in a file cabinet. Some are very good others almost nonexistent. It would be nice to get all the vehicle files scanned and digitized so they could be put online but with all the other pressures I don't see much of a chance for such a project to be started before the move is completed at the earliest.
Posted: Mon May 24, 2010 11:59 pm


----


Trevor,
Please go ahead - just be sure to give credit is all I ask.

Shawn,
The Hetzer was captured at the Škoda Works in Pilsen in May 1945, according to several sources including Joe Rainer, The Jagdpanzer 38 "Hetzer", Military Vehicles Magazine, the Ordnance Museum Guide CD, and Tank Data, 93.

Neil
---
#11: Re: New Pics from APG (some photoshop help needed) Author: vagabond,
Location: Constantly moving across US
Posted: Tue May 25, 2010 3:18 am


----


Hey gang -

I've been talking with armyjunk2 about the EXPODISC and using it to get accurate color balances while shooting.

The EXPODISC is used to set a custom white balance for your camera.

It has helped in so many situations that my wife and I each carry one on every shoot.

I prefer to get the color as close to right on as I can IN camera - I mostly shoot in jpeg.

I really don't want to spend time in Photoshop unless I HAVE to.

Give it a try - you'll REALLY appreciate the difference!

Check out the examples I posted for AJ2.

Cheers!
---
#12: Re: New Pics from APG (some photoshop help needed) Author: piney,
Location: Republic of Southern New Jersey
Posted: Tue May 25, 2010 4:18 am


----


any better ?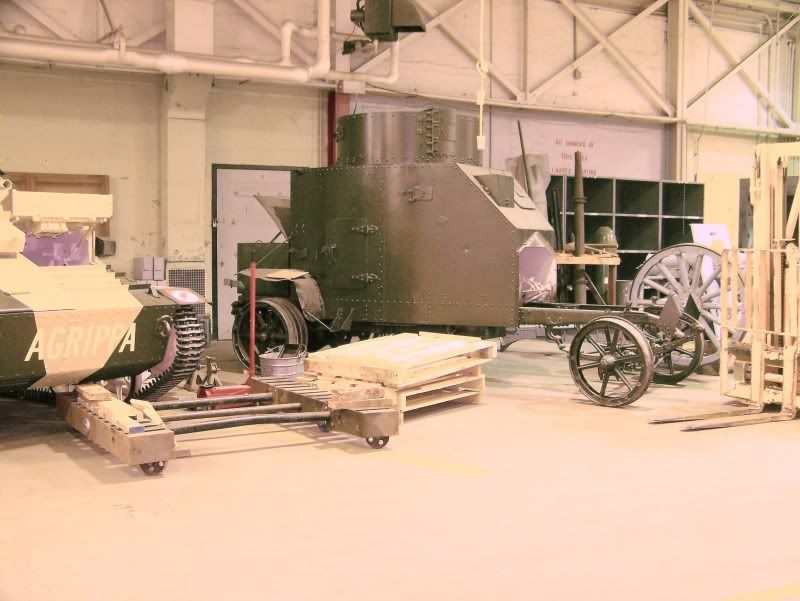 ---
#13: Re: New Pics from APG (some photoshop help needed) Author: Neil_Baumgardner,
Location: Arlington, VA
Posted: Sat May 29, 2010 9:50 pm


----


Hey Bob,
Do you know/did you see where the Semovente da 90/53 su M.41 and Type 97 Shinhoto Chi-Ha are?

A year ago they were outside Restoration, just having been repainted? Are they at the museum now?

Neil
---
#14: Re: New Pics from APG (some photoshop help needed) Author: Massimo_Foti,
Location: Lugano, Switzerland
Posted: Sat May 29, 2010 10:25 pm


----


Would love to see the Semovente da 90/53 somewhat restored! It's the one survivor worldwide

Massimo
---
#15: Re: New Pics from APG (some photoshop help needed) Author: bsmart,
Location: Central Maryland
Posted: Sat May 29, 2010 11:47 pm


----




They are probably at Ft Lee know. I know the Chi-Ha isn't at the museum (It is another one like the KV1 and the PZKW1 that were part of my standard tour)
---
---
---
All times are GMT - 6 Hours